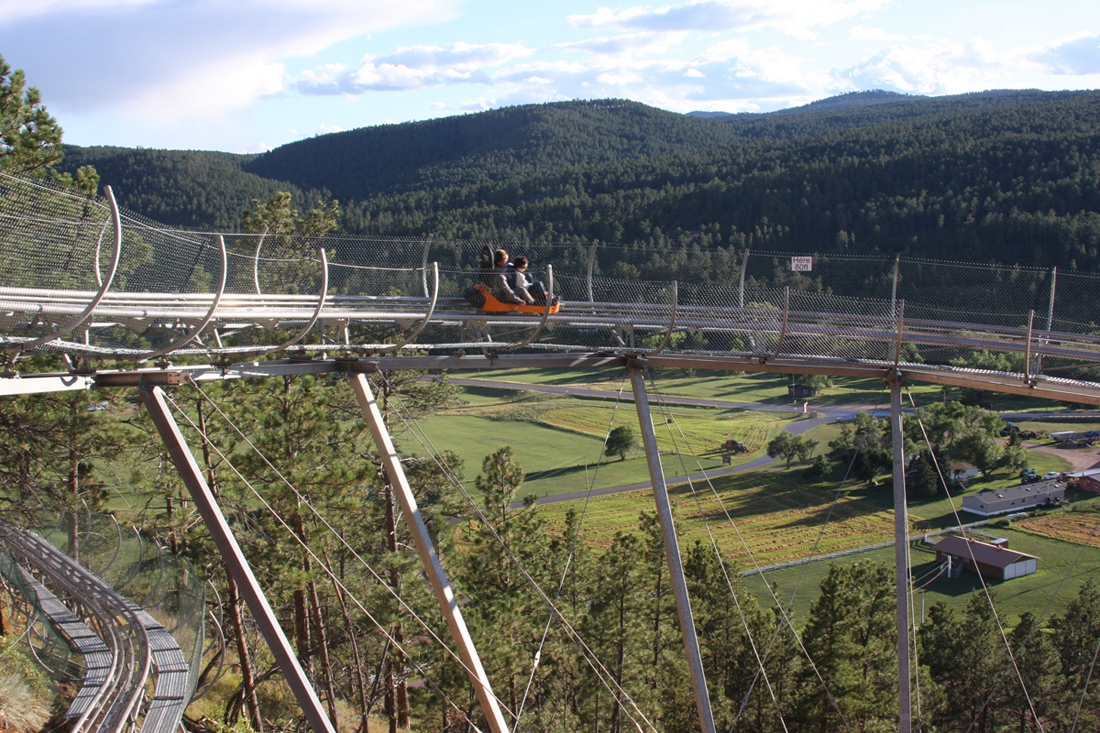 15 Sep

Rushmore Mountain Coaster is now open.

Rush Mountain Adventure Park, Home of Rushmore Cave, announces the opening of the Rushmore Mountain Coaster.
Grab your friends, pack up your adventurous spirit, and set out to find the Black Hills' newest attraction!  Rush Mountain Adventure Park, home of Rushmore Cave, announces the opening of the NEW Rushmore Mountain Coaster!   From the first steep incline, through the rush of the pigtail turns on the elevated track jutting out over the mountainside, to the thrill of the downhill, you'll experience a whole new level of family fun!
This ride, the Rushmore Mountain Coaster, is a mountain coaster (not to be confused with an alpine slide).  It is a coaster that features one and two person carts that are securely connected to rails that silently wind through the trees and over the mountainside.  All riders and their carts will stay securely on the track at all times with each person wearing a seatbelt. (Riders CANNOT fly off the cart or off the track.)  The individually controlled carts of the mountain coaster have been designed to reach speeds of nearly 30 miles per hour with tight, exhilarating turns.  If you are a daredevil, you can go all out and reach top speeds, but if you are the nervous type, you can pull back on the brake, control the speed and experience Black Hills vistas in a whole new way.
While Rush Mountain Adventure Park and Rushmore Cave are open 9-5 every day through December 31, if you want to take in the new coaster, be sure to go on a Saturday or Sunday.    The Rushmore Mountain Coaster will be open from 10 -4 on WEEKENDS ONLY, beginning this weekend; running through December.  The park may plan some special events through the winter as well since the coaster can operate even in the snow!